Skip to content
Skip to navigation menu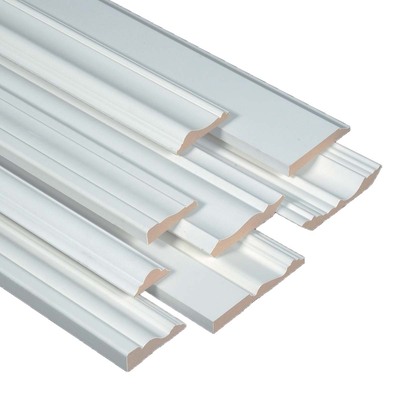 Ultralight MDF Moulding
Arauco Ultralight MDF Moulding is precision engineered for superior quality and high performance.
Arauco MDF mouldings are precision engineered to the highest market standards using Radiata Pine fiber and ISO9001-certified manufacturing which generates a superior substrate. Precision engineering combined with using the most advanced technology results in less equipment wear and tear for the user.
Arauco MDF mouldings are made from Trupan ultralight MDF which offers a density of up to 25% lighter than standard MDF, for easier installation. Also, MDF mouldings are double coated with primer creating a smooth ready-to-finish surface.
FEATURES AND APPLICATIONS
• Ultralight density: 32 lb/ft3.
• Superior workability – easy to cut, miter, nail and finish.
• Smooth, ready-to-paint gesso primed surface.
• CARB Compliant.
• Made from pine fiber grown in ARAUCO's sustainably managed plantation forests.
Applications
• Decorative trim
• Window and door surrounds
• Floor surrounds
• Coffered Ceilings
• Column wraps
• Non-structural architectural features
• Shelving
• Furniture
• Mantels
• Wainscot
Related Products
Explore More ARAUCO Brand Panels