Skip to content
Skip to navigation menu
Case Study: Michigan Turnkey Cabinetry Operation Touts Advantages of TFL in Sales and Bidding Value Proposition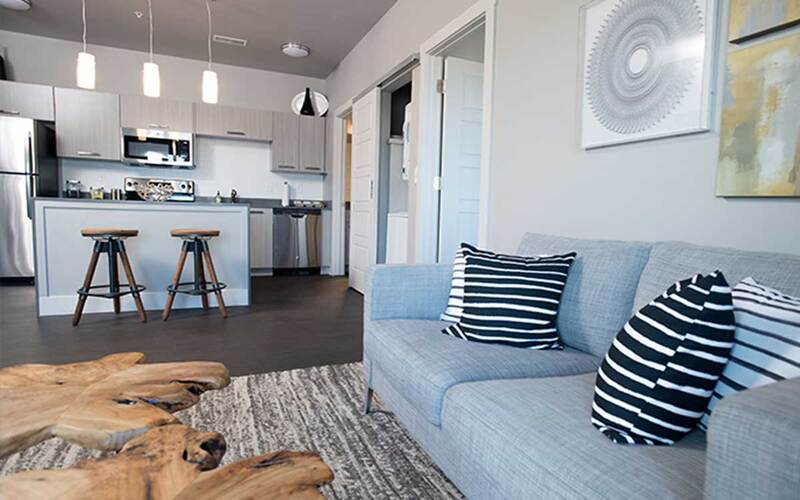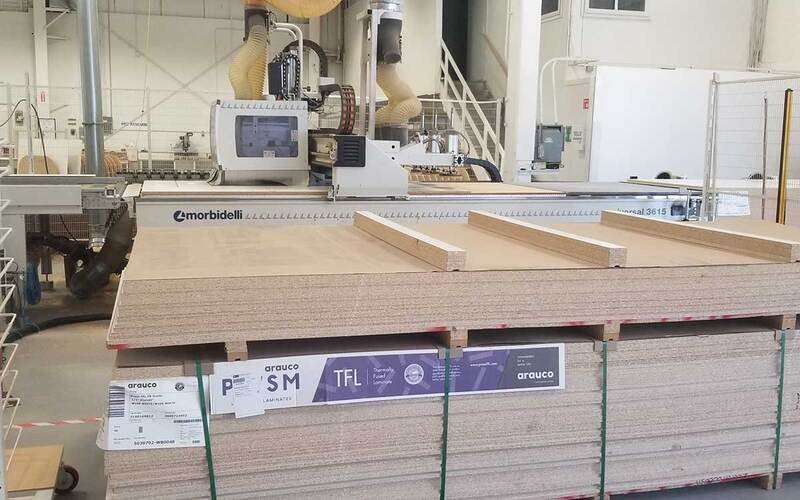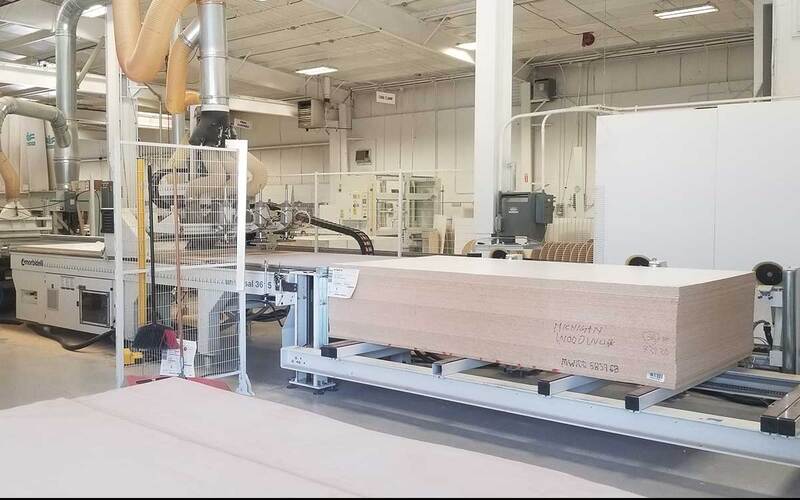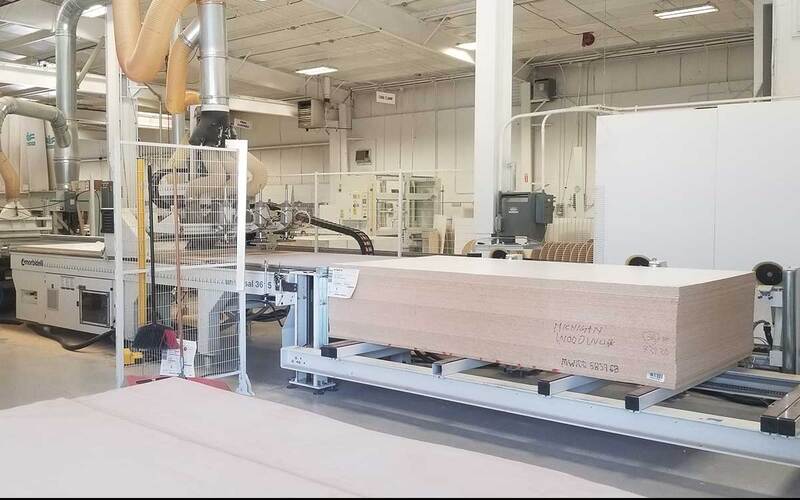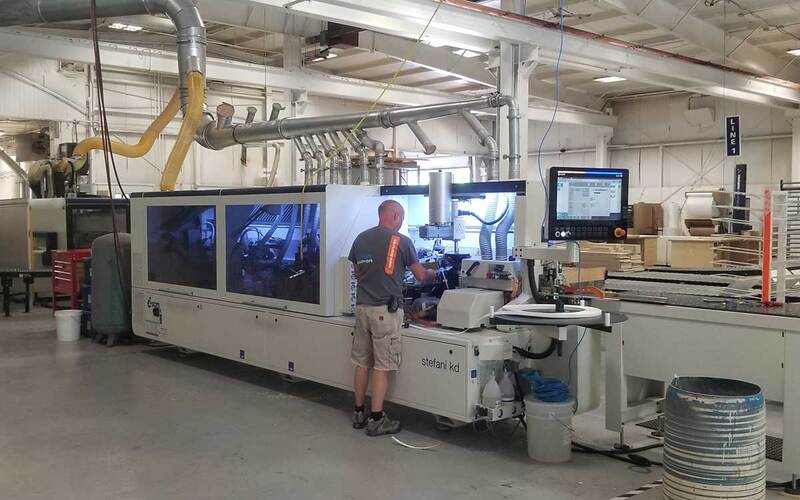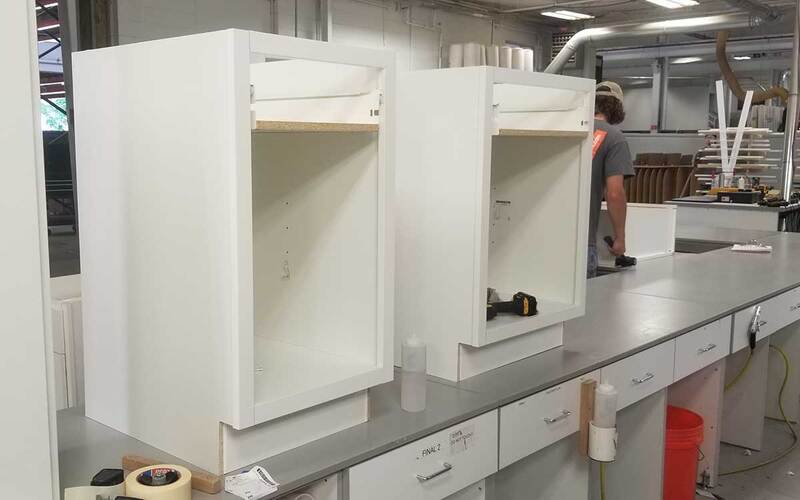 In today's design climate of value engineering, Michigan Woodwork, a company specializing in cabinetry for multi-family properties, has an idea on how to help customers reduce costs. Instead of building typical plywood boxes and wood doors requiring finish, lamination or other labor-intensive processes, Michigan Woodwork recommends that architects, designers and property developers use less-expensive, domestically sourced cabinetry constructed with thermally fused laminate (TFL) panels.

Last year, the company was asked to help value engineer a multi-family housing plan in eastern Michigan. The specifications for the 200-unit project called for an OEM cabinet with plywood veneer doors and plywood case. The total price was expected to be more than $400,000. To demonstrate the cost effectiveness of TFL, a series of four different prototype cabinets were built using a combination of different materials.

One mockup was a cabinet with a wood door, a maple TFL interior and a plywood dovetail drawer. This version showed cost savings of almost seven percent compared to the original specification. The most cost-effective solution turned out to be a cabinet built with a TFL door, a white TFL interior and a metal/TFL drawer, still meeting performance requirements of the developer's spec; and meeting the aesthetic and design needs of end users.

By using this value engineered approach, Michigan Woodwork's team came back with an option that cost approximately 38 percent less than the specified version.

"We've been a proponent of TFL for some time," said Matt Gustafson, founder of Michigan Woodwork. "Not only are the panels truer, flatter and more consistent to work with than plywood, brands like ARAUCO Prism offer a wide variety of on-trend colors and wood-like textures that are more durable than plywood."

In 2017, Michigan Woodwork began work on cabinetry for Marketplace Phase 2, a 79-unit modern multi-family complex located in downtown Lansing, Michigan. The company built 1,000 cabinets using approximately 750 sheets of ARAUCO Prism Concrete Groovz WF393.

Concrete Groovz is a storm cloud colored, straight grained teak TFL design with a soft grey undertone, defined by mid-tone grey ticking. Constructing approximately 55 cabinets a day, the company completed the job in eight weeks while also working on other projects. Michigan Woodwork now employs more than 25 people and produces between 750 and 900 cabinets per week in both face-frame and frameless lines.

"We recently looked at a senior-living facility that called for HPL cabinets," said Johnny Barkley, Michigan Woodwork's operations manager. "The original plan was to use panels with high pressure laminate, which was overkill. I pitched ARAUCO Prism Silken Maple TFL. When I showed the developer the price, he was pleasantly surprised." According to Barkley, the price tag for the TFL version was 25 percent less than the HPL version.

Gustafson was born into the trades and has been around cabinetry his entire life. He founded Michigan Woodwork almost seven years ago with the desire of starting a manufacturing company. Over time, the company progressed from general millwork and custom cabinetry to store fixtures and Michigan Woodwork's current niche of multi-family cabinet manufacturing. The company and its employees are extremely proud of their roots.

"We love the state of Michigan and businesses that contribute to the local economy," Gustafson said. "While a lot of manufacturing has left, Michigan is still known for building things and I wanted to bring some of that back to the area. These people are our friends and neighbors."

Gustafson is especially excited about ARAUCO's newly built particleboard and thermally fused laminate (TFL) panel plant in Grayling, Michigan. The ARAUCO Grayling plant is a state-of-the-art manufacturing operation incorporating the latest technology. Not only does the plant provide more than 200 permanent jobs to the local economy, it also promotes efficient consumption of regional forest resources by utilizing more of each tree, including the woodchips and residuals.

Michigan Woodwork sources ARAUCO TFL and other building materials from the local Distributor Service, Inc. (DSI) facility in Warren, Michigan.

"As a distributor of panel products and other supplies to professional woodworking shops throughout the region, we are thrilled that one of our major vendors has located a new manufacturing facility right in our back yard," said DSI Detroit Sales Manager Brian Ribitch.

"ARAUCO Grayling plant provides what is basically a local, high-volume source for superior quality board with benefits we can pass down channel to our customers. The panels produced at Grayling are of outstanding quality and density, resulting in excellent machinability, less chip out and longer tool life on router bits."

Barkley explained that just because TFL provides cost advantages over other materials it does not mean that it cannot be used in higher-end projects. "I recently presented samples of Argento and Gibraltar from the Prism Taction Oak collection for use in an up-scale, boutique-type apartment project," he said. "The developer took one look at the wood-grain pattern and realistic texture and fell in love with it."

Thanks to ultra-modern facilities like the ARAUCO plant in Grayling, thermally fused laminate has advanced a long way since simple commodity white melamine was the standard. The emphasis on sustainable manufacturing practices and modern, on-trend patterns are making TFL cabinets not just an attractive alternative, but a modern offering for designers and developers alike.

"Promoting the value-engineering benefits of TFL cabinets gives my company a competitive advantage in the sales and bidding process," said Gustafson. "TFL can be traditional or modern, it saves the developer time and money. End users love the durability of their kitchen and their return on investment. These are some of the most important aspects our customers consider. So, we strive to ensure that Michigan Woodwork and ARAUCO Prism products fit the bill."
Visit Michigan Woodwork online.
Learn more on DSI's products and services on their website.